On June 26, 2020, the region's boldest innovators came together with expert problem solvers from Virginia's top universities to explore solutions to the challenges facing Virginia's Small Businesses.
Look back on entrepreneurs, tech visionaries, business strategists, and Virginia's community leaders as they collaborate to generate solutions for the business challenges facing the Commonwealth's Main Street businesses.
Presented by the Rocket Factory and made possible by Activation Capital, the VCU da Vinci Center for Innovation, Elevation Advertising, and Profit Optics.
SparkJam 2020 benefited the VA30Day Fund and featured talent from Virginia's diverse music scene.
SparkJam 2020 Session Replays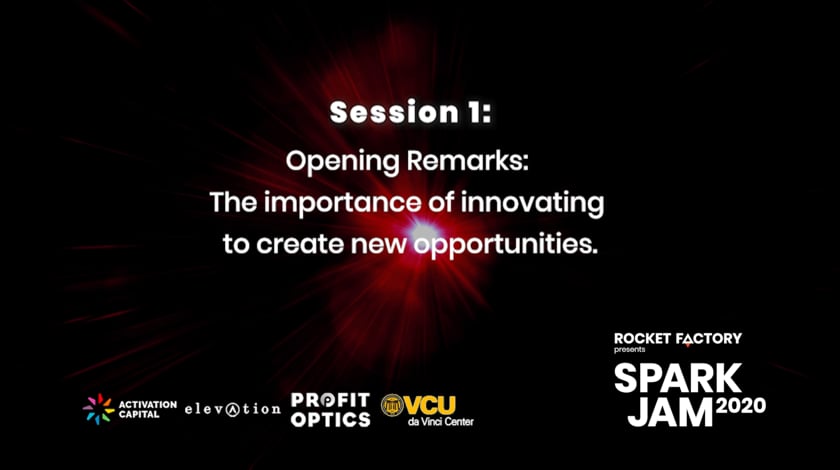 Session 1: Live Event Launch: The importance of innovating to create new opportunities (30:58)
Each of our "Made Possible By" partners brings a unique perspective to innovation. We start SparkJam with some opening remarks by each as we get set to launch the day.
Opening Remarks By:
Todd Feldman, Founder & President, The Rocket Factory
Aaron Dotson, Co-Founder & Executive Creative Director, Elevation Advertising
Greg Stivers, Chief Strategy Officer, Profit Optics
Dr. Garret Westlake, Executive Director VCU da Vinci Center for Innovation
Chandra Briggman, President & CEO, Activation Capital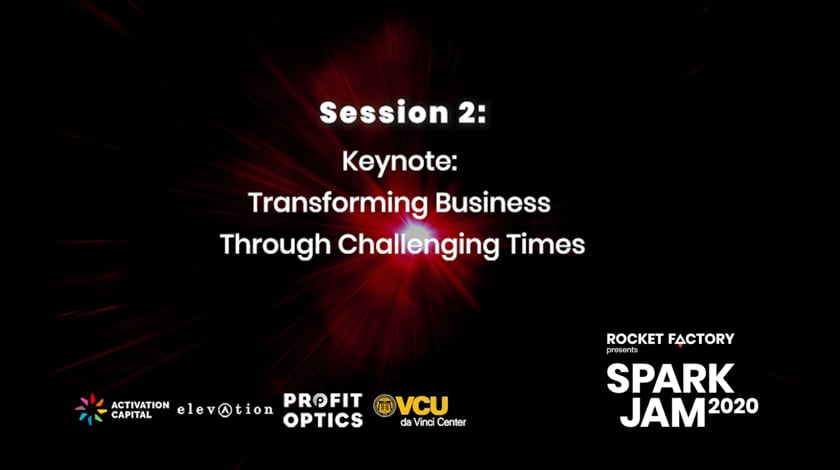 Session 2: Keynote: Transforming Business Through Challenging Times (57:37)
Rob Roy shares insights with SparkJam 2020 as he explains how he's injected digital transformation at some of the world's largest companies. The focus for his discussion and Q&A is how he's innovated within his roles and will offer perspective that every business can apply to their day-to-day.
Moderated by: Todd Feldman, Founder & President; The Rocket Factory
Speaker: Rob Roy, SVP/Head of Digital, Emerging Markets; T-Mobile USA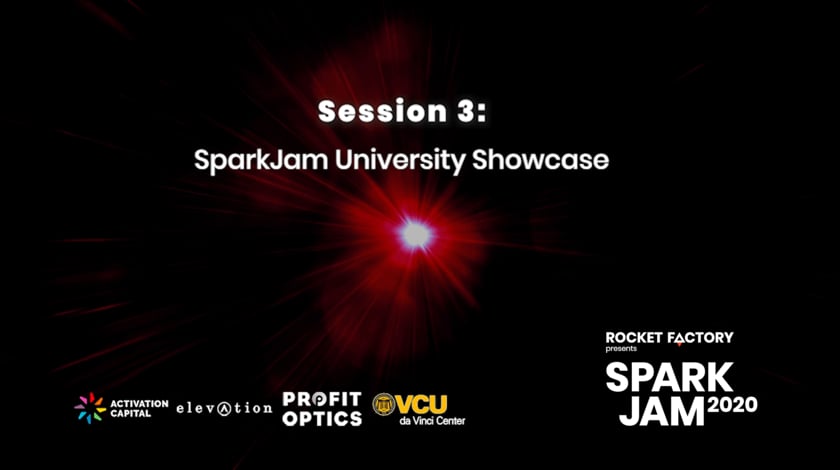 Session 3: SparkJam University Showcase (1:00:57)
With active participation from the SparkJam audience, we kick-off with Pete Snyder of the VA 30 Day Fund. Then hear from university student entrepreneurs from around the Commonwealth making the pivot during this unprecedented time.
Moderated by: Dr. Garret Westlake
With Pete Snyder, Virginia 30 Day Fund
Nancy Grden: Old Dominion University

Blade Taylor: CEO of 3DXtremes

Sally Sledge: Norfolk State University
Graham Henshaw: William & Mary

Cara Simpson: CrimeDell SBN
Vicki Harrington: CrimeDell SBN
Jack Spencer: CrimeDell SBN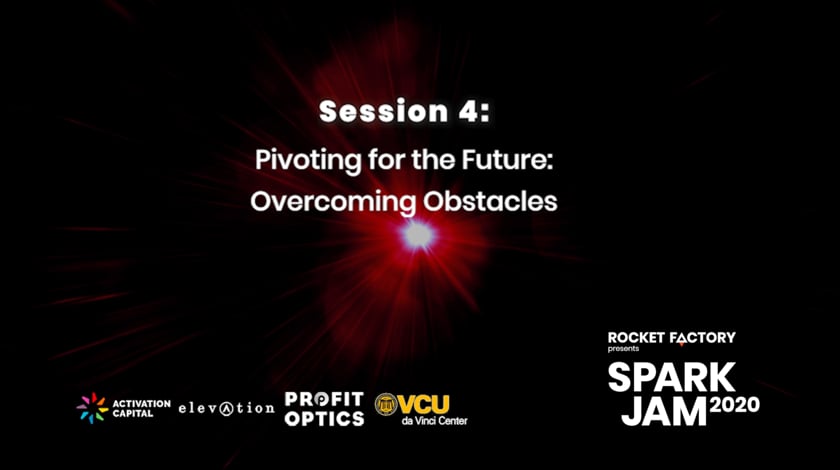 Session 4: Pivoting for the Future: Overcoming Obstacles (31:29)
Hear directly from Virginia's small business leaders about the challenges they faced in the wake of the pandemic and resulting economic crisis. They'll share their insights and knowledge of how they pivoted and made adjustments they've made to remain nimble for the future.
Moderated by Todd Waldo, Founder & Principal Consultant, Hugh Helen LLC
Mike Ledesma, Executive Chef, Perch
Maria Puletti, Owner, Portofino Restaurant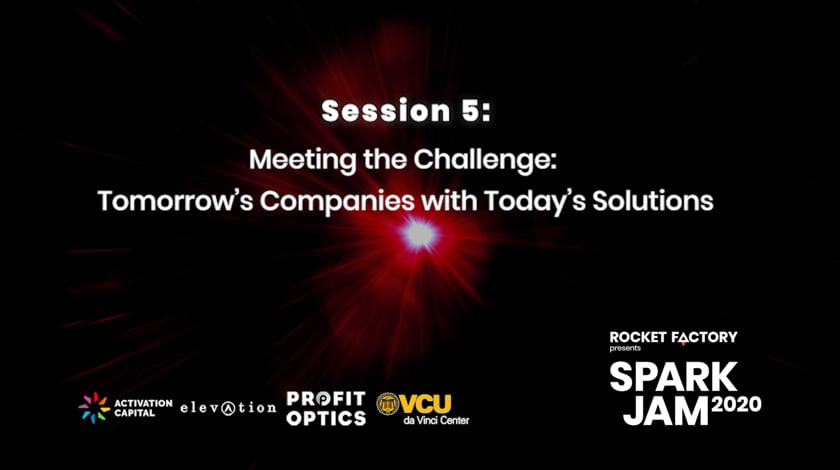 Session 5: Meeting the Challenge: Tomorrow's Companies with Today's Solutions (30:47)
The Virginia start-up ecosystem is rich with talented founders with a dream of building better solutions for businesses to serve their customers better. Listen to their stories and ask questions about steps they are taking to make a difference.
Now more than ever it's critical for companies to pivot their business based on emerging technology trends that have impacted virtually every business out there since the onset of COVID-19. During this session, Erin Powell (former Founder of Ginger Juice and current Executive Director of Lighthouse Labs), Sofiat Abdulrazaaq Co-Founder with Goodfynd, and Founder Karlie Vogt of Kultivate will talk about the importance of your online presence and answer questions from the group. The session will be a Q&A Format to best engage the group.
Moderated by: Erin Powell, Executive Director, Lighthouse Labs
Sofiat Abdulrazaaq, Co-Founder, Goodfynd
Karlie Vogt, Founder, Kultivate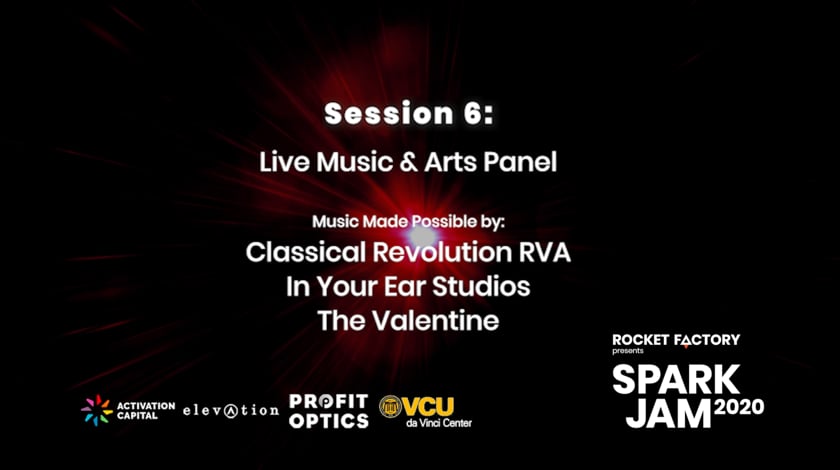 Session 6 Live Music + Panel (1:28:35)
Classical Revolution RVA (Chamber Music)
Serenata (Latin)
Andrew Alli (Blues)
Black Liquid (Hip Hop)
Church Hill Music Co. (Bluegrass)
Panel: Pivoting through Performance: How the live arts community is adjusting to re-opening and beyond. (Starts at 43:28)
Featuring a panel of distinguished professionals from different areas of the music industry discusses the challenges of performing live and discusses strategies as the commonwealth prepares for re-opening
Andy McGraw – Moderator, University of Richmond/Rumput
Reggie Pace, No BS Brass /Hustle Season Podcast/Bon Iver
Ben Baldwin, Spacebomb Group
Anthony Smith, Virginia Repertory Theater
Lucas Fritz, The Broadberry
Carlos Chafin, In Your Ear Studios
Andrew McEvoy, Classical Revolution RVA
Golder O'Neill, Shenandoah University
Live from Studio A at In Your Ear Studios in Richmond, VA.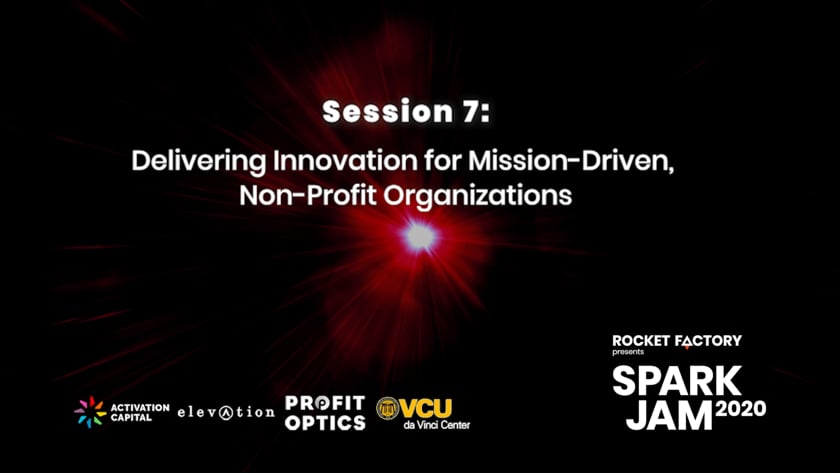 Session 7: Delivering Innovation for Mission-Driven, Non-Profit Organizations (30:46)
The COVID-19 pandemic has deepened the resolve and fortitude of our non-profit community. They are innovating around meeting their mission in new and oftentimes groundbreaking ways. Come interact with leaders and learn what they're doing to rise up to meet the changing economy.
Moderated by: Scott Andrews-Wecklerly, Community Engagement Specialist, Community Foundation
Floyd Miller, President & CEO, Metropolitan Business League
Kelly King Horne, Executive Director, Homeward
Angela Patton, CEO, Girls for a Change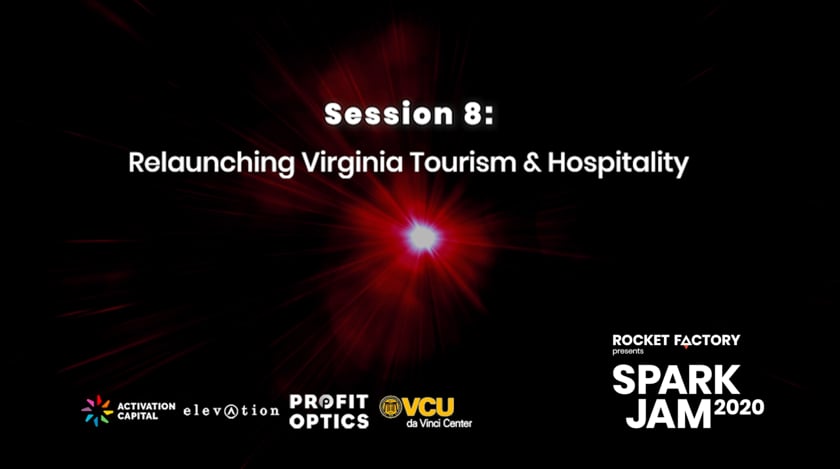 Session 8: Relaunching Virginia Tourism & Hospitality (56:31)
The tourism and hospitality industries have been completely changed as the world continues to face unprecedented challenges with COVID-19. Hotels, restaurants, and destinations have had to ask themselves, "When it's irresponsible to ask people to travel and dine out, what do we do now?"
Tourism is resilient and people will travel again but the landscape has shifted. In this session, you will hear from leaders in the tourism industry address how they have shifted their strategies to stay relevant during these changing times.
Katherine O'Donnell, Executive Vice President, Richmond Region Tourism
Eric Terry, President, Virginia Restaurant, Lodging, and Travel Association
Lindsey Norment, Brand Director, Virginia Tourism Corporation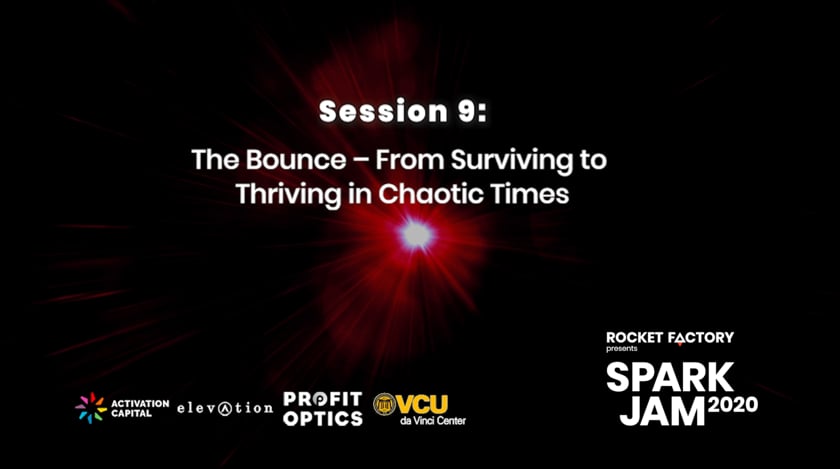 Session 9: The Bounce – From Surviving to Thriving in Chaotic Times (1:04:01)
Most small businesses and startups have reacted to these "once-in-a-lifetime" challenges that have impacted our society and our businesses over the past few months.  This is good enough for them to survive for the moment, but it won't work for getting the businesses to a point of thriving for the long-term.  We review some of the key principles that can help a small business and startups put in place sustainable business practices for them to regain control of their business with clarity, consistency, and confidence.
Moderated by: Art Espey, F

ounder, The Misfit Champion Sustainable Business Series

Laura Bowser, Co-Author,

Making Your Business Thrive in a Recession

Eric Glymph, Founder of EDGe Business Planning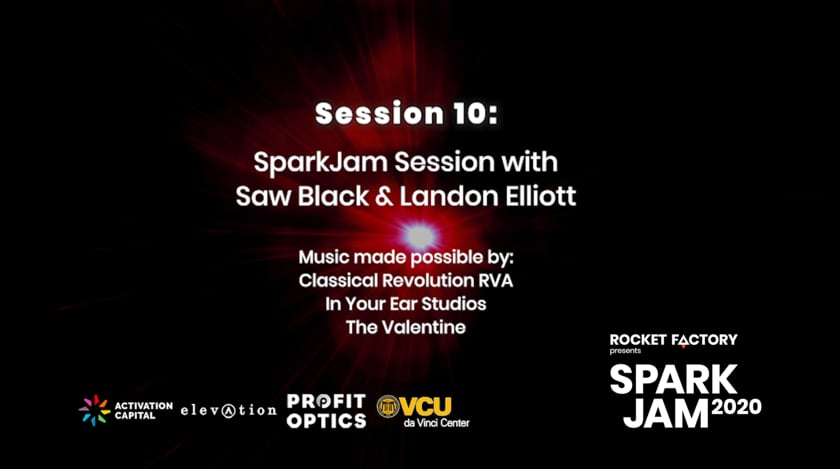 Session 10:  'SparkJam Session' live from Studio A at In Your Ear Studios in Richmond, VA (25:53)
Featuring singer-songwriter Landon Elliott and singer-songwriter Saw Black.
All music streamed live from Studio A at In Your Ear Studios, Richmond, VA
Music made possible by: